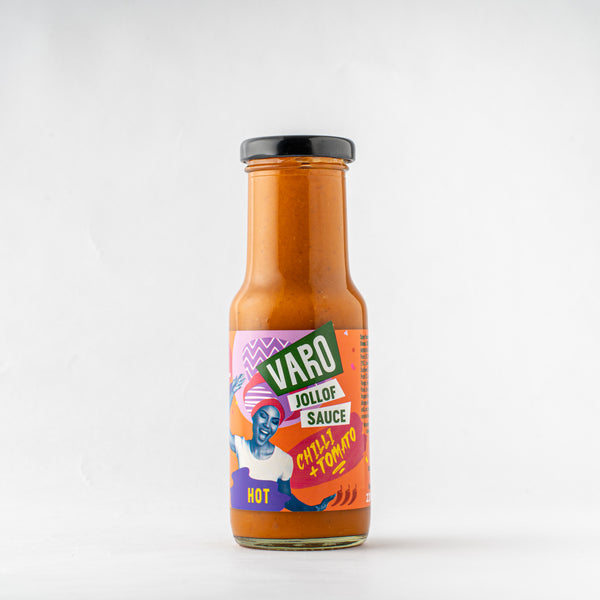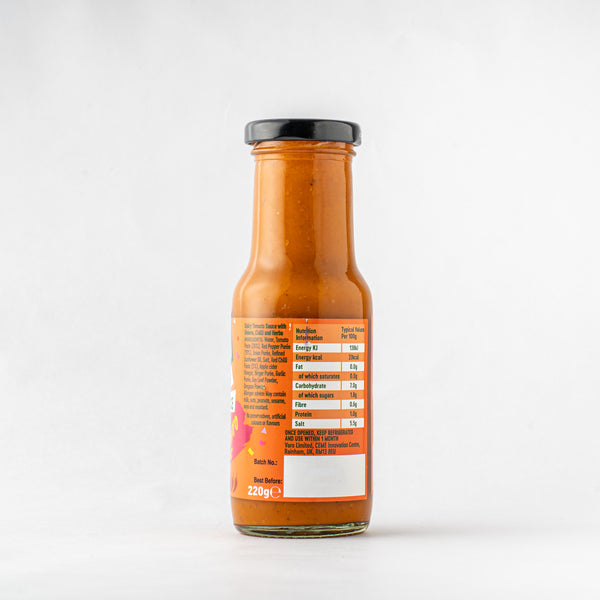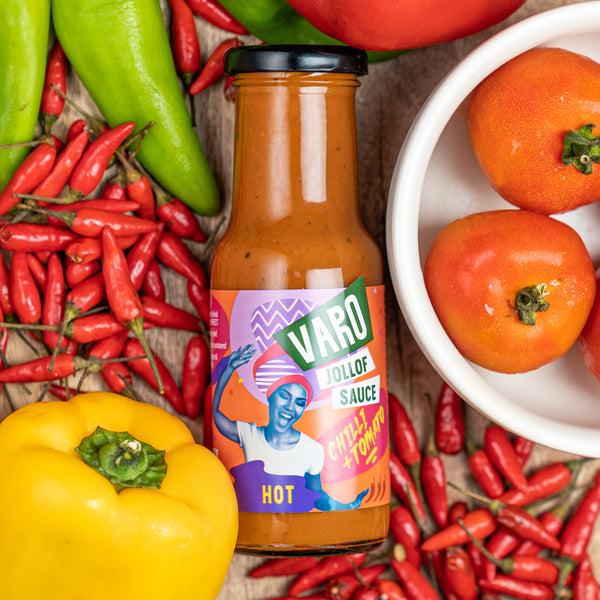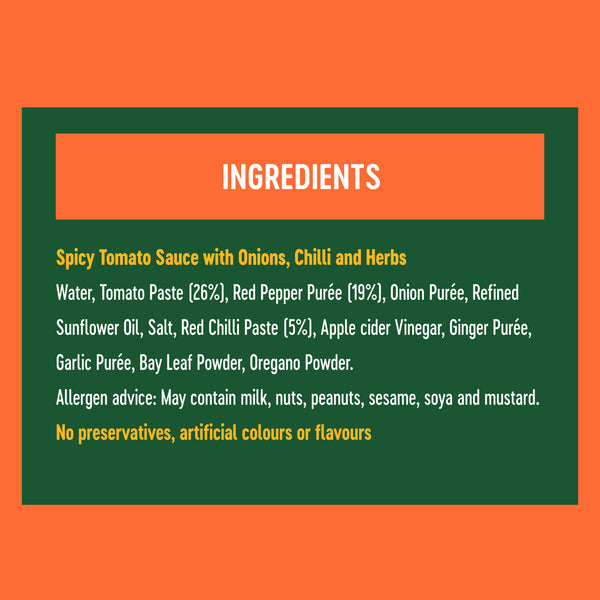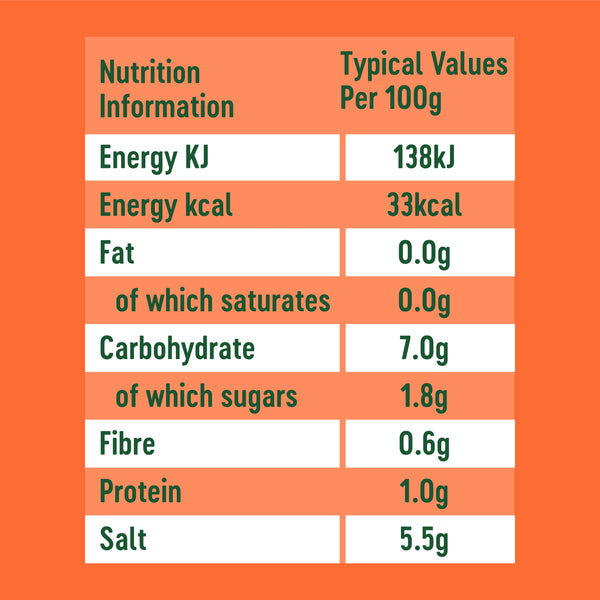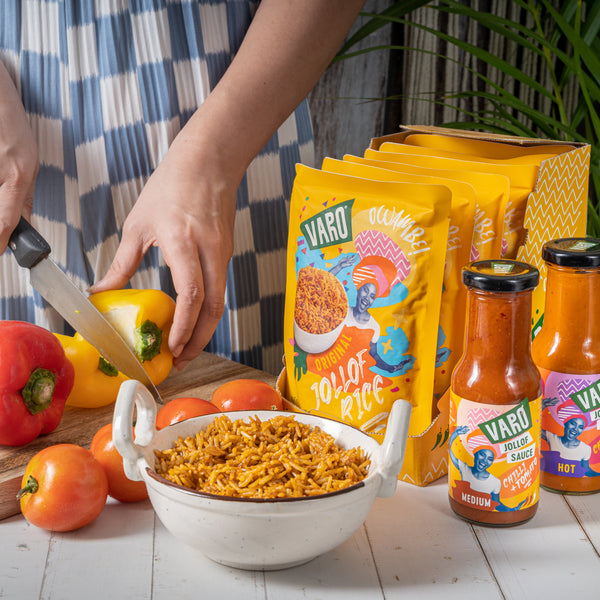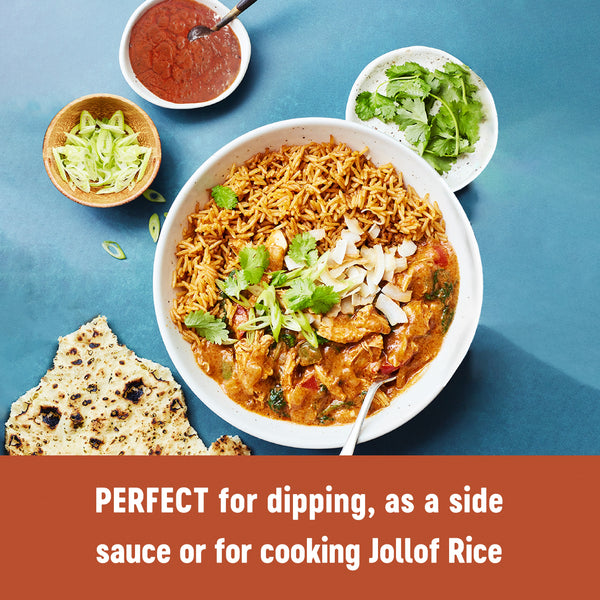 Varo Jollof Sauce – Chilli and Tomato Hot Sauce – 220g Bottle
HOT SAUCE – spice up your favourite dish or simply use it as a dipping sauce. Our spicy tomato sauce with onions, chilli and herbs is a surefire way of adding some heat to a range of meals without having to make the sauce yourself.
SIZE INFORMATION – one bottle contains 220g of delicious, sweet hot sauce, but sometimes that just isn't enough, which is why you have the option of ordering our 8-bottle case. Whichever option you choose, you won't be disappointed. It really does taste amazing.
VERSATILE HOT CHILLI SAUCE – use it as a dipping sauce for chips, plantain, or yam. It works splendidly as a side sauce with plain rice or roast potatoes. Or really heat things up when you're cooking Jollof rice, spaghetti Bolognese or vegan curry. The options are endless.
LOW-CALORIE SPICY SAUCE – with just 33 calories per 100g, Varo Jollof Sauce in chilli and tomato flavour is a healthy way to add some heat and spice to your food. What's more, it is free from preservatives, artificial colours and artificial flavours too. 
CONVENIENT TOMATO SAUCE – if you're stuck on what to eat after a busy day at work or have unexpected guests visiting for dinner, then Jollof Hot Sauce is a lifesaver. You can literally add it to anything. Stir into pasta, add some heat to chilli or pour over meat before grilling.
PRODUCT DESCRIPTION: Not for the faint-hearted. Are you a spice lover? Do you struggle to get decent heat into your food with your regular tomato and chill sauces? Jollof sauce in chilli and tomato flavour is hot! It is full of goodness and really adds a different dimension to your regular meals. Use on salads, pour over chips, add them to a casserole or soup, or marinate your meat before a BBQ. Spice up mealtimes like never before.
INGREDIENTS Water, Tomato Paste (26%), Red Pepper Purée (19%), Onion Purée, Refined Sunflower Oil, Salt, Red Chilli Paste (5%), Apple cider Vinegar, Ginger Purée, Garlic Purée, Bay Leaf Powder, Oregano Powder.